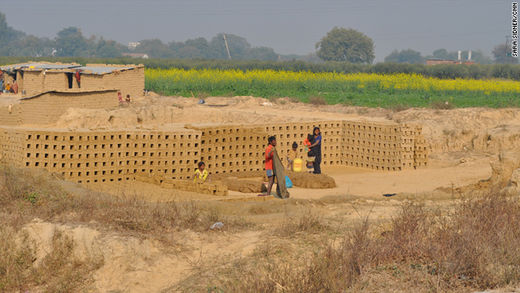 Uttar Pradesh, India - An army of workers, their faces encrusted with dust, toils beside a story-high pile of unfired bricks. They are helping build a new India that appears to be leaving them behind.
From sunup to sundown they spend their time pouring wet mud into molds, lugging them to the kiln, firing them and then pulling them out. For their backbreaking work, they do not receive wages.
They are working to pay off a debt.
In India they are known as bonded laborers, bound to those who gave them or their forefathers an advance or a loan. Human rights advocates call them modern day slaves.
"I cannot leave here unless I pay my debt," said Durgawati, a mother of three.
A contractor had approached Durgawati and her husband, offering them work in a far-off village. He had said there were plenty of opportunities and offered to pay an advance to prove it. Desperate to make a living and with no work in sight where they lived, they leapt at the chance and took the 1000-rupee ($22) advance, she said.