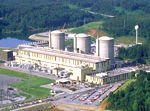 Scientist Dale Bridenbaugh and two colleagues at General Electric quit their jobs in the 1970s to express their concern about the company's Mark 1 nuclear reactor - the design of the troubled reactors at the Fukushima Daiichi plant in Japan.
As Newsmax reported earlier, there are 23 GE Mark 1 nuclear reactors operating in the United States.
"The problems we identified in 1975 were that, in doing the design of the containment, they did not take into account the dynamic loads that could be experienced with a loss of coolant," Bridenbaugh told ABC News.