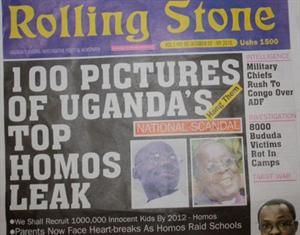 A Ugandan gay rights campaigner who last year sued a local newspaper which outed him as homosexual has been beaten to death, activists say.
Police have confirmed the death of David Kato and say they have arrested one suspect.
Uganda's Rolling Stone newspaper published the photographs of several people it said were gay next to a headline reading "Hang them".
Homosexual acts are illegal in Uganda, with punishments of 14 years in prison.
The BBC's Joshua Mmali, in Kampala, says it is unclear whether the death is linked to the Rolling Stone campaign but police have said there is no connection between Mr Kate's activism and his death.