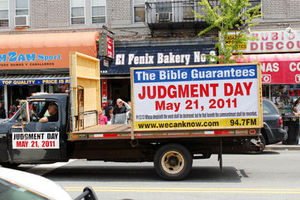 At 6 p.m. today, several things happened in New Jersey: a car accident in Edison, rain in Sparta. A PATH train pulled into Newark Penn Station.
But the world did not end.
"Nope," said State Police Sgt. Stephen Jones. "We're still here."
He added that no unusual activity had been reported.
May 21 had been long predicted as the day the world would begin coming to an end by Christian evangelist Harold Camping, an 89-year-old retired civil engineer who has built a multimillion-dollar nonprofit ministry and radio network based on his apocalyptic prediction.
Camping predicted that some 200 million people would be saved and ascend to heaven while those left behind would die in earthquakes, plagues and other calamities until Earth is consumed by a fireball on Oct. 21.
In New Jersey, none of this came to pass.