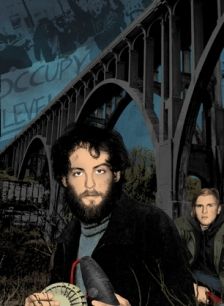 Thunder rumbled and rain pattered on the leaves as Connor Stevens tramped through the darkness down a wooded path to the base of the Brecksville-Northfield High Level Bridge. A sad-eyed 20-year-old poet from the Cleveland suburbs, Stevens was crouched in the foliage, his baby face obscured by a bushy lumberjack's beard. Beside him ducked two friends from Occupy Cleveland - the group that had come to define Stevens and his place in the world - both as gaunt and grungy as Stevens himself. Farther up the trail, Stevens knew, three other comrades were acting as lookouts. Gingerly, the young men opened the two black toolboxes they'd carried down from their van. Inside were eight pounds of C4 explosives.
They were actually going through with it. The six of them were going to blow up a bridge.
That they were on the brink of something so epic was surprising, even to the crew, a hodgepodge of drifters plus a pair of middle-class seekers: quiet Stevens and puppyishly excitable Brandon Baxter, also 20. Anarchists who had grown disenchanted with the Occupy movement, which they considered too conservative, they yearned to make a radical statement of their own - to send a message to corporate America, its corrupt government and that invisible grid underlying it all, the System. They'd joined Occupy Cleveland in the fall, but over the winter they'd waited in vain for the group to pick a direction before finally taking matters into their own hands. For weeks they'd fantasized about the mayhem they'd wreak, puerile talk of stink bombs and spray paint that had anted up to discussion of all the shit they'd blow up if only they could. But the grandiosity of their hopes stood in stark contrast to their mundane routine. They spent their days getting stoned at their Occupy­subsidized commune in a downtown warehouse, squabbling over dish duty and barely making their shifts at the Occupy Cleveland info tent; when they managed to scrounge up a couple of cans of Spaghettios for dinner, it was celebrated as an accomplishment. If not for the help of their levelheaded comrade Shaquille Azir, who at this critical moment stood as lookout, hissing, "How much longer is this gonna take?" the plot might never have come together.