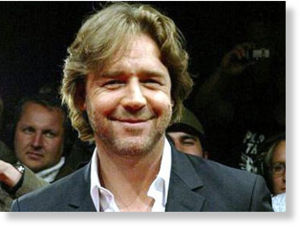 Russell Crowe, the Gladiator star, has sparked outrage after describing circumcision as barbaric in an angry four-letter outburst on the social networking site Twitter.
The Oscar-winning actor laballed the practice "barbaric and stupid" during a row with his Twitter followers, telling them to "f--- off" if they disagreed with him.
The 47-year-old engaged in an angry exchange with one follower, whom he branded a "moron", before imploring Jewish people to "stop cutting your babies".
The debate followed a question by one of his fans called @picknic11 who asked him: "My son is due soon. Do you think I should get him circumstanced? [sic]"
Crowe tweeted: "
Circumcision is barbaric and stupid. Who are you to correct nature? Is it real that GOD requires a donation of foreskin? Babies are perfect
."
He added: "Many Jewish friends, I love my Jewish friends, I love the apples and the honey and the funny little hats but stop cutting yr babies.
"I will always stand for the perfection of babies, I will always believe in God, not man's interpretation of what God requires.
"Last of it, if u feel it is yr right 2 cut things off yr babies please unfollow and f--- off,
I'll take attentive parenting over barbarism
."