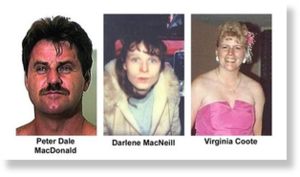 The Crown has dropped first-degree murder charges against a convicted killer in the deaths of three Toronto prostitutes in the 1990s, the Ontario attorney general's office said Saturday.
Peter MacDonald, who is in his fifties, is serving a life sentence after being found guilty of second-degree murder in the 2000 death of James Campbell in Toronto.
He was charged with the deaths of the three sex workers last October.
The bodies of Julianne Middleton, 23, Virginia Coote, 33 and Darlene MacNeill, 35, were found near Toronto's Sunnyside Beach between 1994 and 1997.
The Crown withdrew the charges "because there is no longer any reasonable prospect of conviction," Brendan Crawley, a spokesman for the attorney general's office, wrote in an email.
"I understand the police investigation into the murders is ongoing."