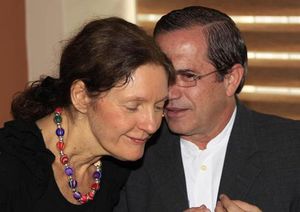 Quito, Ecuador - The mother of WikiLeaks founder Julian Assange said Monday after meeting with Ecuador's foreign minister that she's worried about her son's health after nearly seven weeks' confinement at the South American nation's London embassy.
''He is under a lot of stress and it's been long-term stress now for nearly two years and in conditions which are similar to detention,'' Christine Assange told The Associated Press.
Her son took refuge in the embassy on June 19, requesting political asylum after exhausting all legal appeals to avoid extradition to Sweden, where he is wanted for questioning about sexual misconduct allegations.
Julian Assange, who angered U.S. officials by publishing secret U.S. diplomatic cables and military documents, calls the accusations trumped up and says he fears Sweden will extradite him to the United States for trial.
Ecuadorean officials have said they will not announce a decision on the asylum request until after the London Olympic Games end in mid-August.