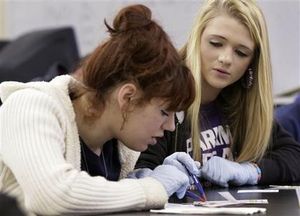 The signs of decline are everywhere in this tiny timber town. Most of the gas stations are abandoned metal skeletons left to rust under the Arkansas sun. Empty storefronts and vacant lots mark the graves of other long-gone businesses.
Sparkman has been dying for decades, losing more than half of its population since 1950. It has virtually no jobs. And its lone school is on the brink of closing. Now the community is trying to save itself by tapping into the economic-development potential of its most precious resource: its children.
Parents and teachers have launched a scholarship program that goes beyond offering money for college. It also aims to draw new families to town to keep the school system alive - and with it the once-thriving village 90 miles southwest of Little Rock.
"We know there's not much here to bring people into our town," said fourth-grade teacher Stephanie Harmon. "We just want to keep our school so that our town can stay."