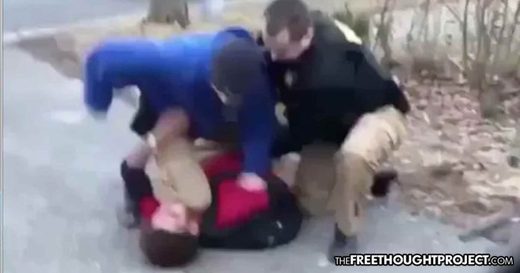 As the Free Thought Project has reported numerous times, the only thing dangerous about marijuana is what happens when the police catch you with it. Marijuana will not kill you, but the police officers who find you with it just might. The violent arrest of a 16-year-old Delaware boy proves this notion. Now, the taxpayers of New Castle will be held liable because the officer who did the punching, was not.
One year after this boy was savagely beaten by New Castle County police —
who were never held accountable
— attorney for the family, Chris Johnson, has
announced
they intend to sue if the department refuses to settle.
As TFTP reported at the time, the boy, identified by his family as Roger Darnell Brown was outside talking with his friend last February because he'd just gotten a brand new dirt bike and wanted to show it off. The boys weren't breaking into cars or vandalizing the neighborhood or stealing things. They were just being boys hanging out.
However, as they stood in the front yard, two cops claimed to smell marijuana and this peaceful hangout quickly turned violent.
Roger was straddling the bike when police arrived and told him to get off it, Mary Fleming, Roger's mother told
Delaware Online.