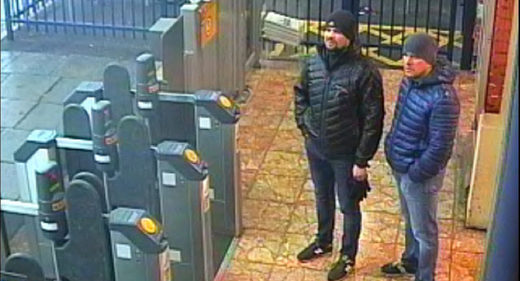 I was caught in a twitterstorm of hatred yesterday, much of it led by mainstream media journalists like David Aaronovitch and Dan Hodges, for daring to suggest that the basic elements of Boshirov and Petrov's story do in fact stack up. What became very plain quite quickly was that none of these people had any grasp of the detail of the suspects'
full twenty minute interview
, but had just seen the short clips or quotes as presented by British corporate and state media.
As I explained in my last post, what first gave me some sympathy for the Russians' story and drew me to look at it closer, was the raft of social media claims that there was no snow in Salisbury that weekend and Stonehenge had not been closed. In fact, Stonehenge was indeed closed on 3 March by heavy snow, as confirmed by English Heritage.
So the story that they came to Salisbury on 3 March but could not go to Stonehenge because of heavy snow did stand up, contrary to almost the entire twittersphere.
Once there was some pushback of truth about this on social media, people started triumphantly posting the CCTV images from 4 March to prove that there was no snow lying in Central Salisbury on 4 March. But nobody ever said there was snow on 4 March - in fact Borisov and Petrov specifically stated that they learnt there was a thaw so they went back. However when they got there, they encountered heavy sleet and got drenched through.
That accords precisely with the photographic evidence in which they are plainly drenched through.