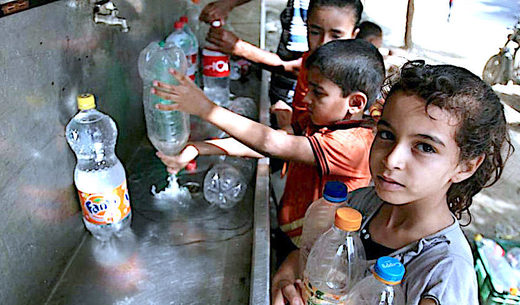 Near the end of last month,
Haaretz
reported
that,
according to an expert hydrologist, 97 percent of Gaza's drinking water has been contaminated by sewage and salt.
The
UN also confirmed
that this was the case early last year, and clearly, the situation has remained unchanged even up until 2018. Robert Piper, the UN's local coordinator for humanitarian and development activities, has
called
the situation "really very serious" and stated that "[w]e are falling far behind the demand for clean drinking water for Gazans."
This kind of mistreatment is part and parcel of an overall package of deprivation that continues to plague the Palestinian people. There are some
2 million residents in Gaza affected by this egregious policy, famously one of the most densely populated areas on the planet.
Gaza's water resources are fully controlled by Israel and the division of groundwater is something that was provided for in the Oslo II Accord.
However, despite the fact that under the Accord Israel is
allocated four times
the Palestinian portion of water resources, it
has been revealed
that
Israel has been extracting 80 percent more water from the West Bank than it agreed to.