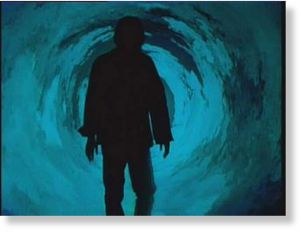 On the day after Thanksgiving, 2008, a holiday season employee died from asphyxiation when he was trampled by some 2,000 bargain hunters smashing through the doors of a Long Island Wal-Mart store on what is traditionally, and in this case quite appropriately, called Black Friday. A 34-year-old, 6-foot-5, 270-pound giant, Jdimytai Damour had been sent to the vestibule as a crowd control measure because of his size. The throngs, who had had been standing outside or waiting in their cars for the 5 AM opening, and who were in competition with each other to get to the bargains, crumpled a metal portion of the door frame like an accordion as they fought their way into the store. Wal-mart employees scurried atop vending machines to avoid the masses, but Damour was knocked down and trampled while he was trying to shield a pregnant shopper.
Other employees were knocked down as they tried to rescue Damour. Nassau police and paramedics trying to save Damour were also jostled and pushed to the ground. Police and witnesses said shoppers continued to surge inside, simply stepped over Damour, and kept shopping even as the store announced it was closing because of the death. Witness Kimberly Cribbs said "all those people who got in went right on shopping after the worker was run over and was seen gasping for air." Four shoppers, including a woman eight months pregnant, were injured and treated at hospitals.
In the ensuing debate regarding whether Damour's death was a prosecutable crime, experts were divided. "In order to prosecute a homicide, you have to establish that someone caused a death," said one lawyer. "If I stepped on his arm, or chest, or leg, even if you have that on video, how are you going to establish that I caused his death?"
[1]

Our moral sense finds this legal argument repugnant, and insists on calling a spade a spade: a man was unnecessarily killed as a result of obsessive consumerism in which human beings acted less than human.