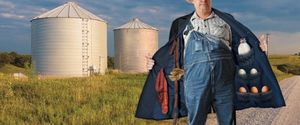 Need a good laugh? Check out the bizarre reasoning offered in support of the Patriot Act for Food (S 510, the Food Safety Modernization Act), which the U.S. Senate will vote on shortly. From a need to stop food smuggling, to the law is too old, to the terrorists are gonna get us, elites sure are shy of brains when it comes to credible propaganda. They must be drinking the
fluoridated water
and smoking
Monsanto marijuana
, or hoping you are.
A couple weeks ago, we
reported
that Senator Bob Casey informed his Pennsylvania constituents that S.510 will stop food smuggling in the United States. Never heard of the problem? That might be because the "
biggest food smuggling case in the history of the U.S
." amounted to $40 million worth of commercial grade honey over a five-year period. Food smuggling is clearly not a problem - nor is it a fiscally sound reason for giving the Food and Drug Administration an extra
$1.6 billion
.