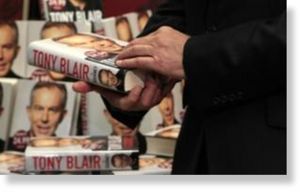 Tony Blair's autobiography has been turning up in the crime section of bookshops thanks to a Facebook and Twitter campaign.
The publication of the ex-prime minister's memoirs,
A Journey
, was one of the most eagerly awaited literary events of the year, but his insistence that the decision to invade Iraq was correct meant that not everyone welcomed the book.
A Facebook group entitled '
Subversively move Tony Blair's memoirs to the crime section in book shops
' gained more than 1,000 members inside a day.
The group's creator, Euan Booth, said the idea was non-violent direct action against a man he described as "
our generation's greatest war criminal
".