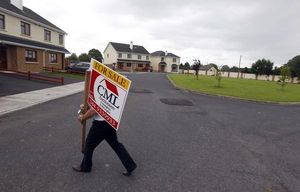 A survey from property website Daft.ie has found that asking prices for homes fell by 14% last year, with prices falling by 5% in the final three months of the year.
Daft.ie says prices have now fallen by 40% from their peak, with the average price now just below €220,000.
During 2010, asking prices in Dublin fell 14% on average, compared to a fall of 15% outside major cities. Prices in Galway were 13% lower than a year before, after prices fell sharply in the final quarter of the year.
In Cork, Limerick and Waterford, prices fell by between 10% and 12% over the course of the year. Elsewhere, the extent of price falls varied from less than 10% in Mayo to 20% or more in Wexford and Kilkenny.