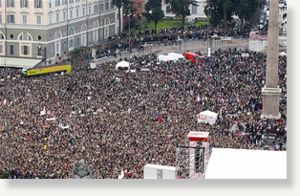 A million protesters, many of them women, took to the streets across Italy on Sunday calling on scandal hit Silvio Berlusconi to resign.
Marches were held in 200 towns and cities throughout the country as Italians voiced their anger and frustration at the 74-year-old Italian prime minister, who is facing charges of having under age sex with a prostitute and abuse of power.
The aim of the rally was for women to protest at how their dignity and the image of the country had been offended by the media tycoon's obsession with young girls.
Protests were held in Milan, Genoa, Naples and Bari but the largest was in Rome where thousands packed into the Piazza del Popolo which two months ago had been the scene of violent riots after Berlusconi won a confidence vote.
Demonstrators, including prostitutes and nuns, carried banners saying: "Berlusconi resign now" while another said "No prostitutes, no Madonnas, just women."
The protests came a week after demonstrators had also attempted to march on Mr Berlusconi's home at Arcore near Milan, where the alleged parties were held, in an attempt to throw knickers into his garden but police prevented them.