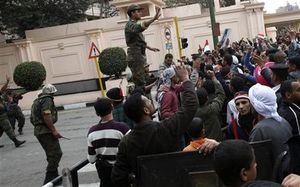 Egypt's new military rulers have signalled their intention to share power with civilians and amend the constitution rapidly by popular referendum, opposition activists and a British minister said on Monday.
Wael Ghonim, a Google executive detained then released for his part in the uprising that overthrew President Hosni Mubarak, said members of the military council had told him a plebiscite would be held on constitutional amendments in two months.
British Foreign Secretary William Hague said Prime Minister Ahmed Shafik had told him that he would reshuffle his cabinet in the coming week to bring opposition figures into the line-up appointed by Mubarak last month.
Earlier, the ruling Higher Military Council urged workers to return to their jobs and help restart an economy damaged by the uprising which ended Mubarak's 30-year rule but also sparked a growing wave of strikes.
In a televised address three days after Mubarak was forced to step down and hand power to the armed forces, a military spokesman appealed for national unity.
In "Communique No. 5" read out on state television, the spokesman said: "Noble Egyptians see that these strikes, at this delicate time, lead to negative results." It added that work stoppages were harming security and economic production.