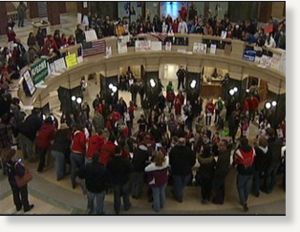 Senate Majority leader Scott Fitzgerald tells 27 News they need one Democrat to come back to vote on a bill that would take collective bargaining rights away from most public state employees.
Fitzgerald says he doesn't know where the Democrats are.
Fitzgerald says they've sent law enforcement to bring the Democrats back to the session.
They're issuing a "call of house."
Sergeant of Arms went door to door to find Democratic senators. 27 News went with Sergeant of Arms to every Democratic senators' office and no one is there.
Sen. Fitzgerald says only one senate Democrat is needed for a quorum to pass the budget repair bill.
Assembly Democrats are getting cheers from protesters as they prepare to debate the GOP bill.
Republicans control the Assembly, but hundreds of protesters jammed the hallways around the chamber anyway and shouted "Kill the Bill" as lawmakers filed to the floor for a roll call before breaking for party meetings.