Arab League and China express regret as Moscow suggests US-led coalition is going beyond its mandate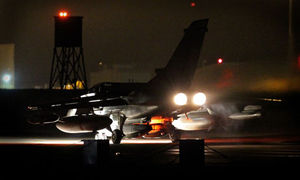 Arab support for the US-led war in Libya showed signs of fraying today in reaction to the sheer destructive power of the initial attack, claims of civilian deaths and a warning by Muammar Gaddafi to prepare for "a long war".
The secretary-general of the Arab League, Amr Moussa, appeared to wobble just over a week after his organization, which represents 23 Arab states, voted in favour of a no-fly zone. Pictures of charred bodies led to not only the Arab League but also Russia and China expressing regret over the violence. Moscow claimed the US-led coalition was going beyond its UN mandate to protect civilians and called for an end to the "indiscriminate use of force".
As anti-aircraft fire was heard across Tripoli, and a second wave of attacks was launched targeting ground forces and air defenses, suggesting a second night of bombardment, the US claimed it had control of the skies over Libya and had stopped Gaddafi's advance against rebel positions. The start of the mission, labelled Operation Odyssey Dawn, included firing more than 100 Tomahawk missiles at Gaddafi's air defenses. Defense sources said the next phase would be to cut supply lines to Gaddafi's front-line troops and was expected to involve British Tornado ground attack jets.
A short time later Libya announced another ceasefire, which was issued in the name of the Libyan government and armed forces, rather than Gaddafi.