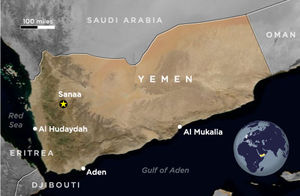 Saleh vows to never hand over power to the military, spokesman says
Sanaa - A spokesman for President Ali Abdullah Saleh said Tuesday that the Yemeni leader is willing to step down by the end of the year as part of a "constitutional" transfer of power.
Ahmed al-Sufi told The Associated Press that Saleh informed senior Yemeni officials, military commanders and tribal leaders of his intention in meetings on Monday night.
He said the president also vowed never to hand over power to the military.
Saleh's comments are a reversal of his rejection earlier this month of an opposition proposal demanding his resignation by the year's end.
It is not clear whether the opposition movement calling for Saleh's ouster will accept his latest offer, especially after
his security forces shot dead more than 40 protesters on Friday
.
On Monday, a top military commander and at least 18 other senior officers defected to the opposition movement demanding the ouster of Yemen's embattled president.