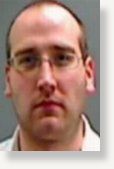 Brent Girouex, a former youth pastor at
Victory Fellowship Ministeries
, was arrested earlier this month after four young men came forward with complaints that Girouex molested them, and police say the number of victims continues to rise.
Reverend Lonnie Parton said church leaders were stunned when the young men came forward with the allegations against Girouex last month. At that point, Parton told Girouex he needed to go to the police and make a full confession, which he did on February 16.
Girouex reportedly told investigators that the most sexual contact he had was with one teen over a four-year period, starting when the boy was 14. He claimed he and the teen had "mutual sexual contact" somewhere between 25-50 times over that time span. That particular teen, now an adult, told investigators
the numbers were more in the vicinity of 50-100 times.