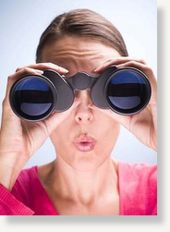 In the late 1940s, George Orwell wrote his nightmarish novel
1984,
depicting a future world where an all-seeing but unseen tyrant, Big Brother, ruled over his citizens by watching their every move. In this paranoid dystopia, surveillance was purely a ''top-down'' affair, a government tool for controlling the hapless masses: privacy was a crime, the Thought Police punished dissent and history was rewritten daily for political ends.
More than half a century later, it is worth considering how Orwell's fictional prediction weighs up against reality. If Big Brother's gaze dominated that imagined future, who's watching over us now?
In some respects, old George was spot on: surveillance is booming. It's now a multibillion-dollar global industry, and an increasingly pervasive part of our daily lives. But today's version has evolved beyond the Big Brother model - a monstrous oppressor peering down a giant microscope - into a more sophisticated, multi-directional and complex beast. Surveillance has spawned so many offshoots, and spread in such unforeseen directions, that we are struggling to keep up with its ethical and legal ramifications. What's more, in the digital age, we as individuals are not always its helpless victims. Unsettling? Perhaps. But rather than blindly condemning or embracing these shifts, it's better to keep a watchful eye on them.