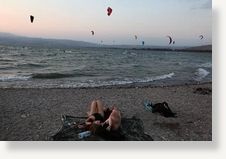 More than 60 percent of Israeli men and 40 percent of women do not believe that forcing sex on an acquaintance constitutes rape
, an Israeli researcher said on Tuesday.
The findings, set to be published in a book in the United States later in the year, indicate a stark difference between public perceptions of what constitutes rape and the way it is defined by law, author Avigail Moor told AFP.
"Among the public there is a very stereotypical view of rape of a stranger jumping out the bushes and assaulting a woman," said Moor, a psychologist who treats victims of sexual violence and a researcher at the Tel Hai college in northern Israel.
Moor asked participants in her study for a yes or no answer on whether forced sex was rape when carried out by a stranger, an acquaintance or a partner.