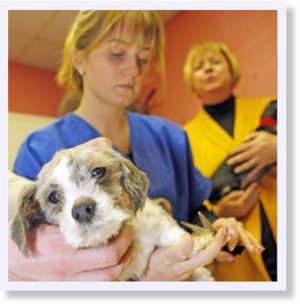 Their mouths were muzzled and wrapped in so much tape they couldn't breathe, bark or eat. Their fur was matted with filth and the house was crammed with so much trash, it hid the floor.
A Long Island mother and daughter were arrested yesterday after more than a dozen tortured dogs and cats were rescued from a filth-riddled Rockville Centre home that included more than two dozen decomposing animal remains, cops said.
Judge Anna Anzalone teared up as prosecutors showed pictures of a dog skull with tape still visible on it, as well as the squalor in the small house.