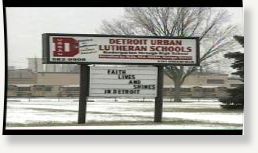 Detroit, Michigan -- A Detroit school is trying to find funds to turn its gas and electric back on after falling behind on a $100,000 bill.
A representative for DTE Energy said it turned power off to Detroit Urban Lutheran School as a last resort.
Principal Dave Siefker said he tried working with the utility company but has only been able to come up with $10,000.
"We have students, parents and teachers working through every kind of fundraiser that you can imagine," he said. "But fundraising is not going to fund our school. Donations, only major donations, probably."