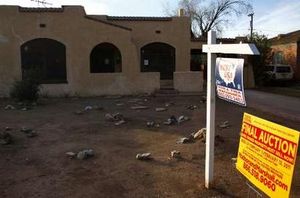 The bleakest year in the foreclosure crisis has only just begun.
Lenders are poised to take back more homes this year than any other since the U.S. housing meltdown began in 2006. About 5 million borrowers are at least two months behind on their mortgages and industry experts say more people will miss payments because of job losses and also loans that exceed the value of the homes they are living in.
"2011 is going to be the peak," said Rick Sharga, a senior vice president at foreclosure tracker RealtyTrac Inc. The firm predicts 1.2 million homes will be repossessed this year.
The blistering pace of foreclosures this year will top 2010, when a record 1 million homes were lost, RealtyTrac said Thursday. One in every 45 U.S. households received a foreclosure filing last year, a record 2.9 million of them. That's up 1.67 percent from 2009.
On Thursday, Freddie Mac reported that fixed mortgage rates dipped this week for the second straight time, extending a sliver of hope for some home owners. The average rate on the 30-year mortgage dropped to 4.71 percent from 4.77 percent the previous week. The rate on the 15-year loan, a popular refinance choice, slipped to 4.08 percent from 4.13 percent.