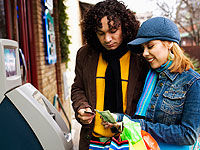 J.P. Morgan Chase and other banks are trying to recoup approximately $30 billion a year in lost overdraft fee income by testing $5 ATM fees, Consumer Action spokesman Joe Ridout told CNBC.
These banks have "historically been reliant on overdraft fees," he said, so they're "coming up with new ways to make up the difference." He said higher ATM fees and other rising costs penalize small depositors.
Nessa Feddis, spokeswoman with the American College of Consumer Financial Services, agreed there are "enormous pressures on banks because of lost revenue."
But she insisted that "most people don't pay ATM fees. Only non-customers who otherwise pay nothing to contribute to the cost of providing the ATMs pay the fee. That is fair because otherwise they are not contributing to the cost of providing the service."