Society's Child
Federaljacktube3
YouTube
Mon, 31 Jan 2011 08:04 UTC
January 27, 2011 MSNBC, The Rachel Maddow Show.


---
Federaljacktube3
YouTube
Sat, 29 Jan 2011 07:56 UTC
This YouTube video shows protesters pushing back police on bridge in Cairo.


---
---
Matthew Taylor and Jonathan Paige
Guardian UK
Mon, 31 Jan 2011 07:13 UTC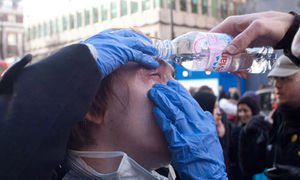 UK Uncut activists hospitalised after targeting Boots in Oxford Street as part of latest day of action
Tax avoidance protesters needed hospital treatment today after police used CS spray to break up a demonstration on Oxford Street in central London.
Hundreds of people staged peaceful sit-ins at high street stores around the country as part of the latest UK Uncut day of action, designed to highlight companies it says are avoiding millions of pounds in tax.
In London protesters had successfully closed down Boots in Oxford Street - one of the companies campaigners accuse of tax avoidance - when police tried to arrest a woman for pushing a leaflet through the store's doors. Other demonstrators tried to stop the arrest and at least one police officer used CS spray, which hospitalised three people.
Jed Weightman, one of those who went to hospital, said protesters had joined hands to try and prevent the arrest.
---
Dave Lefcourt
OpEdNews
Mon, 31 Jan 2011 07:00 UTC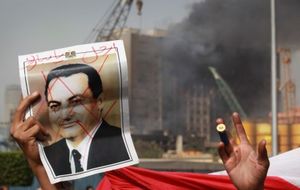 What we are witnessing in the Arab world that began with the self immolation of a fruit seller in Tunisia, the subsequent rebellion there which saw the departure of the dictator Ben Ali and his 23 year rule has inspired a populist political rebellion well beyond Tunisia that has connected with and touched a nerve in many (most?)Arab people.
What started in Tunisia (the demand that Ben Ali step down over his corruption, oppression, high food prices, widespread unemployment and poverty and the humiliation by government agents that caused the desperate act of self immolation) has spread to Egypt with mass demonstrations that began Tuesday, continuing despite an official crackdown by the Mubarak regime. Through internet postings (Twitter and Facebook) larger demonstrations are planned for today in Cairo and other Egyptian cities. Former Chief U.N. nuclear inspector Mohamed ElBaradei (and an Egyptian himself) has joined in the call for Mubarak to step down.
---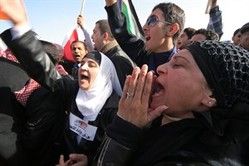 Amman, Jordan - The leader of Jordan's powerful Muslim Brotherhood warned Saturday that unrest in Egypt will spread across the Mideast and Arabs will topple leaders allied with the United States.
Hammam Saeed's comments were made at a protest outside the Egyptian Embassy in Amman, inspired by massive rallies in neighbouring Egypt demanding the downfall of the country's longtime president, Hosni Mubarak.
About 100 members of the fundamentalist group and activists from other leftist organizations and trade unions chanted "Mubarak, step down" and "the decision is made, the people's revolt will remain."
Elsewhere, a separate group of 300 protesters gathered in front of the office of Jordanian Prime Minister Samir Rifai, demanding his ouster. "Rifai, it's time for you to go," chanted the group.
---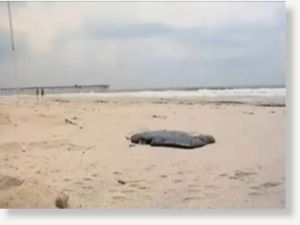 [A] new report just out has revealed some very disturbing findings. ... A blood study that was conducted on four males ages 3 to 43 and one female age 38 in December of last year. Subra says the results of those tests have revealed elevated levels of six toxic and potentially life threatening chemicals associated with crude oil, most notably Ethylbenzene which has been linked to kidney damage and cancer. ... UL Lafayette Professor Paul Klerks is an expert in the environmental toxicology and he says the high levels of ethyl benzene found in human patients is alarming but he doesn't believe its reason to panic just yet. "This is potentially cause for concern, but it's a very small sample size of five so it's really hard to tell with just a small sample size what it means as whole." ... [Their] problems included everything from trouble breathing, and bleeding from the ears, to swelling of the limbs and blood in the stool. Some of the more unusual cases include a commercial diver who is plagued by mysterious rash and the three year son of a fisherman who is suffering from kidney stones.
Part 1:
---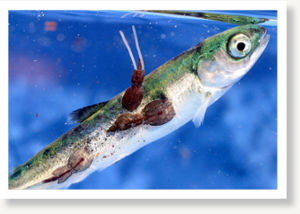 Last month, 138,000 farmed salmon escaped from feedlots on the New Brunswick side of the Bay of Fundy, a fact that scarcely caused a ripple in the Maritime consciousness. Elsewhere - in Norway, Scotland, Chile, British Columbia - salmon farming is a highly controversial industry. Here it seems to skate along smoothly under the radar.
Salmon farming is controversial for two main reasons. First, it is a highly inefficient way to produce food. Producing feed for farmed salmon intensifies the pressure on other fisheries around the world. In effect, the process turns four kilograms of wild fish into one kilogram of industrial fish. How clever is that?
Second, salmon farms have horrible effects on the marine environment and on wild salmon. A salmon cage consists of an outer layer of netting to keep predators out, and an inner layer to keep salmon in. But parasites, bacteria, viruses and chemicals can move freely in and out of the cages - and, like all intensive industrial food production facilities, the salmon cage holds the maximum number of animals packed in together.
---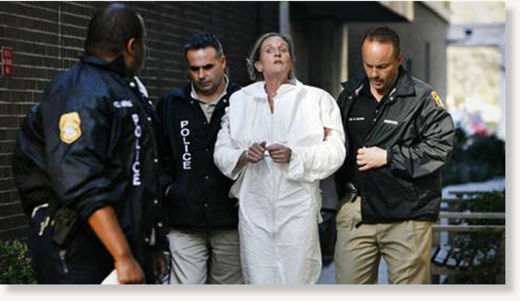 The wife of a military officer shot and killed her son on the way to soccer practice, then drove to their upscale home and shot her daughter in the head while she studied at her computer, police said Friday.
Afterward, the woman told detectives she killed the teens for being "mouthy."
Julie Powers Schenecker admitted the slayings after officers found her covered in blood on the back porch of her home Friday morning, police spokeswoman Laura McElroy said. Schenecker's mother had called police from Texas because she was unable to reach the 50-year-old woman, whom she said was depressed and had been complaining about her children.
Schenecker's husband, Parker Schenecker, is an Army colonel stationed at the headquarters of U.S. Central Command at MacDill Air Force Base in Tampa. The father had been away for several days when the killings happened, said CentCom spokesman Lt. Col. Michael Lawhorn, describing him as a career Army intelligence officer.
---
Plains, Georga -- Former President Jimmy Carter called the week-long political unrest and rioting in Egypt an "earth-shaking event" and said his guess is that the country's president, Hosni Mubarak, "will have to leave."

Carter's remarks came at Maranatha Baptist Church, where he regularly teaches a Sunday School class to visitors from across the country and globe.

"This is the most profound situation in the Middle East since I left office," Carter said Sunday to the nearly 300 people packed into the small sanctuary about a half mile from downtown Plains.

Carter spent the first 15 minutes of his 50-minute class talking about Egypt.

Carter was president from 1977-81 and brokered the historic peace agreement between Israel and Egypt in 1978. He brought Egyptian President Anwar al-Sadat and Israeli Prime Minister Menachem Begin together for an agreement that still stands today.
---