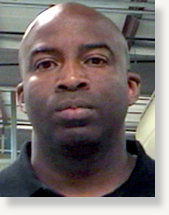 The girl wore a pink ribbon in her hair, faux pearl earrings and a grim expression as she reached the witness stand Wednesday, ready to describe how former New Orleans police officer
Christopher Buckley
raped her multiple times in 2008, when she was 13.
But she never got past her name.
Buckley's defense attorney, Robert Jenkins, called a sudden halt to the trial on its second day just as the teen prepared to testify. Buckley, who served on the force for 10 years, changed his plea to guilty as charged, copping to seven counts of forcible rape. Six of them relate to the sexual assault of the girl, now 15, and the seventh to an alleged attack against a woman in 2003, for which Buckley awaited a separate trial.
Afterward, in a narrow hallway at Orleans Parish Criminal District Court, one of Buckley's relatives allegedly accosted the girl. Police arrested Jasmine Buckley, 20, and charged her with obstruction of justice and intimidating, impeding or injuring a witness, online jail records show. It's not clear whether anyone was injured in the fracas. She was still being booked late Wednesday.
Christopher Buckley, 39, was the boyfriend of the teen's mother, also an officer with the NOPD. He resigned shortly after his arrest on Oct. 21, 2008, after the girl told her mother that Buckley raped her three times that month.
The Times-Picayune
is not naming the girl or her relatives.