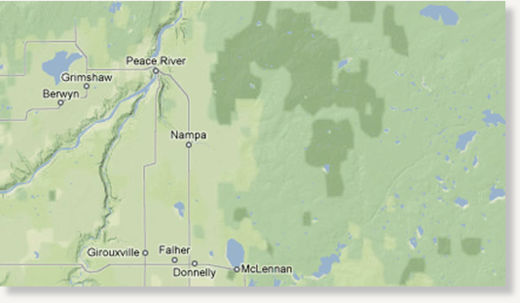 Emergency crews working to clean up massive leak northeast of Peace River
A pipeline break northeast of Peace River, Alta., has leaked 28,000 barrels of crude oil, during what is now considered to be one of the largest spills in the province's history.
The leak from the Plains Midstream Canada pipeline, discovered Friday, was originally thought to have involved several hundred barrels of oil.
It now appears to be the biggest crude oil pipeline leak in Alberta since 1975, when a Bow River Ltd. pipeline leaked 40,000 barrels, according to Davis Sheremata, a spokesman for the Alberta Energy Resources Conservation Board.
"It's been the biggest spill from a pipeline involving crude oil that we've had in Alberta certainly in about the last 18 years or so," Sheremata said.
The last major incident was in 1993 when 18,000 barrels of crude oil leaked from a BP Canada pipeline.