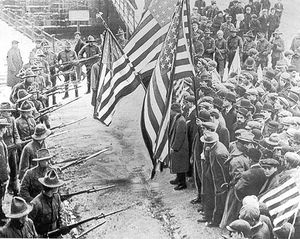 Wisconsin Governor Scott Walker finished a bad week with a misstep that emphasized his inability to generate support for his attempt to strip the state's public employees of collective bargaining rights.
First, the
governor's radical proposal
went to such extremes in its anti-labor bias that it sparked a protest movement so large, so steady and so determined in its demands that it is now commonly compared with the protests that have rocked Egypt and other Middle Eastern countries.
Then, the man that badges worn by marchers describe as "The Mubarak of the Middle West" really blew it. Saturday was supposed to be the day when the governor pushed back against the movement that has challenged his radical power grab. The governor's Tea Party allies attempted to grab the spotlight with a rally at the state Capital. Unfortunately, the much-hyped event, which national Tea Party groups had poured money and organizing energy into generating, drew an anemic crowd of several thousand. Even by the optimistic estimates of the Tea Partisans themselves, the pro-Walker turnout was one-tenth the size of the crowd that came to oppose the governor's so-called "budget repair bill."