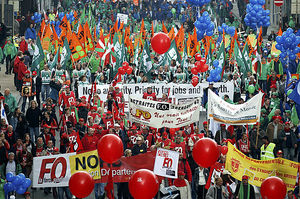 Much has happened since Connecting the Dots was last published; and yet, nothing much has changed at all! SOTT's volunteer staff have lately been absorbed in getting
The Dot Connector Magazine
off the ground. So if you haven't done so already, remember that you can always stay informed of our efforts to Connect the Dots by
subscribing
to our illustrated bi-monthly publication dedicated to delivering the impartial facts on issues of vital importance to every person on the planet.
With so much happening all at once, it is difficult to see which event or trend presents the most danger for humanity. Is it the descent into fascism that the United States is undergoing? Is it the obnoxious Big Brother harassment of full-body scanner machines and the humiliating "enhanced pat-downs"? The construction of terror scares by the FBI and assorted alphabet agencies, perhaps? What about Israel's oppression of Palestine, together with its manipulation of global perception and its unparalleled contribution to the distortion of geopolitics? The ongoing destruction of Iraq, Afghanistan and Pakistan? The squeezing of Western economies to bring them into line with Third World countries and the rising food prices? Winter coming so soon to the northern hemisphere and the biblical floods caused by torrential rain?
Join us as we try to filter out the distractions and the background noise by Connecting the Dots between the trends.