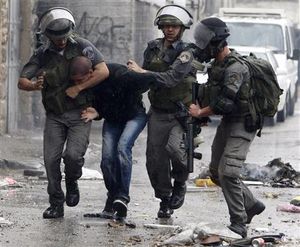 Israeli troops shot Palestinian protesters who surged toward its frontiers with Syria, Lebanon and Gaza on Sunday, killing at least 13 people on the day Palestinians mourn the establishment of Israel in 1948.
In the deadliest such confrontation in years of anniversary clashes usually confined to the West Bank and Gaza, Israeli forces opened fire in three separate border locations to prevent crowds of demonstrators from crossing frontier lines.
The new challenge to Israel came from the borders of Lebanon, Syria, Jordan and Gaza -- all home to hundreds of thousands of Palestinians who fled or were driven out in 1948.
Combined with a public relations disaster last year over the killing of pro-Palestinian activists in a Gaza aid flotilla and a determined Palestinian diplomatic drive to win U.N. recognition of statehood in September this year, the bloody border protests raised the stakes further for Israel.