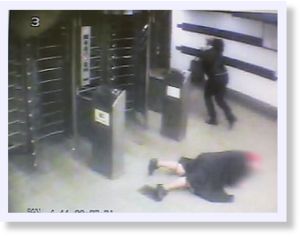 Video Shows Elderly Victim Tossed By Another Woman!
New York - She said it felt like she was flying.
That's how an elderly woman described a heartless attack inside a subway station.
And it was at the hands of another woman.
The robbery was caught on camera. As CBS 2's Wendy Gillette reports, the video shows how Madeline Klima was robbed from behind.
A defenseless elderly woman, Klima said she can't make sense of what happened to her.
"Why? Why'd she have to hurt so much? She wanted it so bad she could have asked for it," Klima told Gillette.
The video shows her falling to the ground and hitting her head as the thief runs off with her purse.
"Oohh flying. Picked me up and like, threw me. And went down, and blood, you know. But I couldn't get up," Klima said.
The 81-year-old said she was stunned by how much force the woman used. Klima fractured and dislocated her shoulder in the fall and her eye is heavily bruised. She also needed stitches.
Police said the suspect is dark skinned, in her 20s, about 5-foot-10 and nearly 200 pounds.