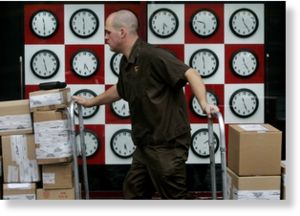 Washington - A yearlong experiment with the nation's electric grid could mess up traffic lights, security systems and some computers - and make plug-in clocks and appliances like programmable coffeemakers run up to 20 minutes fast.
"A lot of people are going to have things break and they're not going to know why," said Demetrios Matsakis, head of the time service department at the U.S. Naval Observatory, one of two official timekeeping agencies in the federal government.
Since 1930, electric clocks have kept time based on the rate of the electrical current that powers them. If the current slips off its usual rate, clocks run a little fast or slow. Power companies now take steps to correct it and keep the frequency of the current - and the time - as precise as possible.