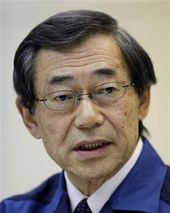 Tokyo - The president of troubled Tokyo Electric Power Co. is stepping down and taking responsibility for the handling of Japan's nuclear power plant crisis, Japanese media reported Friday.
Masataka Shimizu will be replaced by senior executive Katsutoshi Chikudate as the company prepares to report huge losses, the Yomiuri newspaper said.
TEPCO has been struggling since March 11, when the Fukushima Dai-ichi nuclear power plant was heavily damaged by an earthquake and tsunami and began leaking radiation. Some 80,000 people living within a 12-mile radius of the plant were evacuated from their homes afterward and many are living in gymnasiums.
The disaster is the world's worst nuclear crisis
since Chernobyl in 1986, analysts say.
The company may owe disaster victims in the tens of billions of dollars in compensation and has asked the government for help in paying the bill.