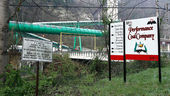 A "perfect storm was brewing" in West Virginia's Upper Big Branch coal mine in the weeks and days before a fireball tore through it on April 5, 2010, killing 29 miners and injuring one severely, according to a just-released report by the Governor's Independent Investigation Panel.
The report describes in vivid detail the conditions at Upper Big Branch before, during and after the deadliest U.S. mine disaster in 40 years, and concludes that the explosion was preventable and resulted from "failures in safety systems" at the mine in southern West Virginia.
The findings are based on physical examinations of the mine, regulatory records, the mine's internal records and more than 300 interviews with current and former mine employees, family members of miners, as well as with state and federal mine regulators. Noticeably absent from the 120-page report: testimony from the top people in charge of the mine. They invoked their Fifth Amendment privilege against self-incrimination and refused to cooperate with investigators.
Among the key findings: The Upper Big Branch mine lacked adequate ventilation, water sprays on equipment were not properly maintained and failed to function as they should have, and the mining company didn't meet federal and state safety standards for the application of rock dust, a crucial tool in keeping highly explosive coal dust inert.