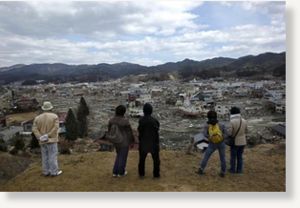 Engineers pinned their hopes on chemicals, sawdust and shredded newspaper to stop highly radioactive water pouring into the ocean from Japan's tsunami-ravaged nuclear plant Sunday as officials said it will take several months to bring the crisis under control, the first time they have provided a timetable.
Concrete already failed to stop the tainted water spewing from a crack in a maintenance pit, and the new mixture did not appear to be working either, but engineers said they were not abandoning it.
The Fukushima Da-ichi plant has been leaking radioactivity since the March 11 tsunami carved a path of destruction along Japan's northeastern coast, killing as many as 25,000 people and knocking out key cooling systems that kept it from overheating. People living within 12 miles (20 kilometres) of the plant have been forced to abandon their homes.
The government said Sunday it will be several months before the radiation stops and permanent cooling systems are restored. Even after that happens, there will be years of work ahead to clean up the area around the complex and figure out what to do with it.
"It would take a few months until we finally get things under control and have a better idea about the future," said Nuclear and Industrial Safety Agency spokesman Hidehiko Nishiyama. "We'll face a crucial turning point within the next few months, but that is not the end."
His agency said the timetable is based on the first step, pumping radioactive water into tanks, being completed quickly and the second, restoring cooling systems, being done within a matter of weeks or months.