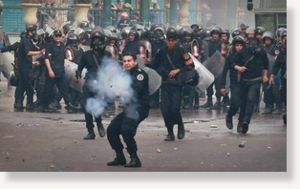 Bodies littered the road outside a Cairo prison and troops with bayonets fixed moved into another facility after thousands of convicts broke out of jails or were abandoned by guards in protest-hit Egypt. Soldiers set up checkpoints along the Nile in the upmarket Maadi district, near the notorious Tora prison, searching cars for escapees, as protests against President Hosni Mubarak raged into a sixth straight day.
Troops took a man from a car, threw him on the ground and tied his hands with a scarf as they did not have handcuffs. Asked why the man was detained, a soldier told an AFP correspondent: "He's just escaped from prison."
At Tora prison, where many Islamist militants have in the past been detained and tortured according to rights groups, an AFP correspondent said that shots could be heard coming from inside while soldiers with bayonets fixed moved in.
The army blocked access to the prison and an armoured personnel carrier fired its heavy machine gun in the air to clear civilians from the area.