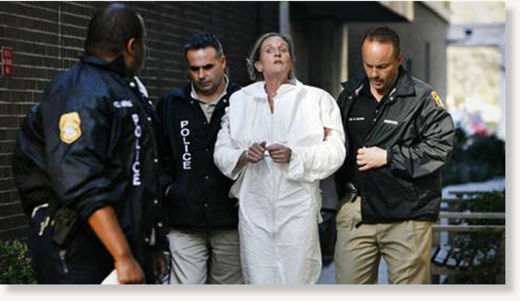 The wife of a military officer shot and killed her son on the way to soccer practice, then drove to their upscale home and shot her daughter in the head while she studied at her computer, police said Friday.
Afterward, the woman told detectives she killed the teens for being "mouthy."
Julie Powers Schenecker admitted the slayings after officers found her covered in blood on the back porch of her home Friday morning, police spokeswoman Laura McElroy said. Schenecker's mother had called police from Texas because she was unable to reach the 50-year-old woman, whom she said was depressed and had been complaining about her children.
Schenecker's husband, Parker Schenecker, is an Army colonel stationed at the headquarters of U.S. Central Command at MacDill Air Force Base in Tampa. The father had been away for several days when the killings happened, said CentCom spokesman Lt. Col. Michael Lawhorn, describing him as a career Army intelligence officer.