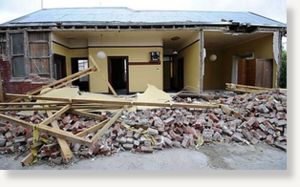 With nerves frayed by months of tremors that peaked in a horrifying earthquake this week, Christchurch residents are lashing out against those they need the most.
Police said domestic violence surged by 50 percent after a major tremor rocked New Zealand's second city last September, the prelude to Tuesday's quake that left at least 123 dead and destroyed parts of the city centre.
Just a day into the latest disaster, police commander Dave Cliff said authorities had seen another surge in family assaults, with many homeless or without power and water, and as some turned to alcohol to cope.
"The stress and trauma of Tuesday's earthquake is understandably taking its toll, and the continual aftershocks are exacerbating the tiredness and emotional fatigue," said Cliff.
"However family violence is not okay under any circumstances and it is important that situations are not allowed to escalate."
Many in Christchurch have been on edge since the September 4 quake which caused massive damage but no loss of life, with more than 5,000 aftershocks ravaging the city of 390,000 -- New Zealand's second largest.