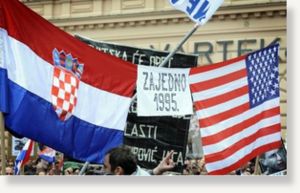 Tens of thousands of Croatian war veterans staged protests in main cities Saturday, a day after a UN court handed down heavy war crimes sentences for two ex-generals, seen by many Croats as heroes.
On the central square in a rainy Zagreb up to 30,000 protesters gathered around a central stage to listen to fiery speeches condemning both the verdicts and the Croatian government.
"We do not recognise The Hague court and its ruling, those who bear guilt for such verdicts are here", veterans' leader Mario Slavicek told the crowd.
The war veterans and their supporters who gathered to show their outrage at Friday's verdict blame present and previous governments for handing over the generals to the International Criminal Tribunal for the former Yugoslavia.
They chanted "traitors" and "Jadra get out" in reference to current Prime Minister Jadranka Kosor.
Ante Gotovina and Mladen Markac were jailed for 24 and 18 years respectively after the court in The Hague found they had conspired with the Croatian wartime leadership to commit crimes against ethnic Serbs.