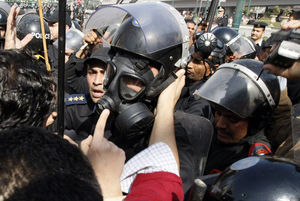 Update: Al Jazeera
reports
Mubarak's planning exile to Tel Aviv. According to sources in the Egyptian Embassy in Tel Aviv, Israel is making preparations to welcome Hosni Mubarak into exile after Saudi Arabia rejected overtures. Al Jazeera also reports Israeli diplomats have fled Egypt amid the unrest. CNN reports widespread rumors that Mubarak's wife and other family members have already fled Egypt.
Arab Executives Predict Regime Change in Egypt, as U.S. State Dept says reshuffling of government won't do. Demonstrations across the U.S. rally in solidarity with protesters. See also Robert Fisk's
latest dispatch
: Death throes of a dictatorship.
The U.S. State Dept's
statement
, "We strongly believe that the Egyptian Government needs to engage immediately with the Egyptian people in implementing needed economic, political, and social reforms" appears the give-away on Saturday of Mubarak's fragile hold on power.