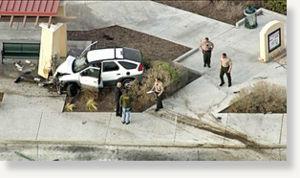 A 5-month old boy stabbed by his teenage father during a child abduction in Palmdale has died, authorities say.
Palmdale Sheriff's Station deputies responded to a report of a child abduction in Palmdale at about 11:00AM, Tuesday.
An Amber Alert was issued for the child and his father, 17-year old Christopher Earl Glass, around 2:00 Tuesday afternoon.
According to the alert, Glass picked up his 5-month-old son from a relative's home earlier today and drove to the child's mother's home.
The two argued, and Glass drove off with the boy still inside his white SUV.
Glass then allegedly sent a text message to the mother, threatening to stab the boy.