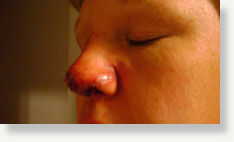 Certified assistance dogs will still be permitted under new policy
Home Depot is barring domestic animals from its Canadian outlets, following an incident last week in Ottawa when a shop greeter had the tip of her nose bitten off by a customer's dog.
Home Depot Canada issued a statement on Thursday explaining that the new no-pets policy was "the best decision for the shopping enjoyment and safety of all customers."
U.S. Home Depot locations will not be affected by the change.
Only certified assistance dogs, such as those needed to guide the visually impaired, will still be permitted inside.