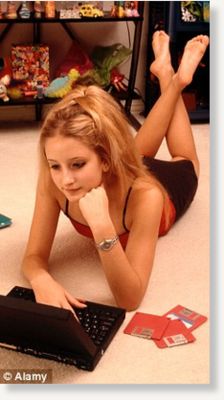 Studies show half of children over nine have seen graphic sex on the Internet
On a bed emblazoned with Hello Kitty images, 13-year-old Natasha poses for her best friend's mobile phone camera.
With one knee on the bed, and the other off, she raises her bottom in the air and looks around at the camera with a pout, set off by the red feather boa around her neck.
Natasha likes what she sees. You can't see her spots and her face looks thinner when she twists around.
So she posts it as her profile picture on Facebook, where more than a dozen of her 400 friends rush to post comments like 'Ooh, nice a***' and 'Sexeee!'.
And why should she see this as inappropriate when millions of adults project an ideal image of themselves on Facebook.
It's a statement of what we think is most important about us.
You have only to comb through the Facebook or Bebo profiles of a few of today's young girls, many of whom look like soft-porn stars in training, to witness how many want to be seen as sexy.
Of course, what woman hasn't got a faintly embarrassing picture of herself getting ready for the school disco and posing as she tried to find what being 'sexy' looks like?
But the stakes today are much higher. According to the Child Exploitation and Online Protection Centre (CEOP), the sexier girls look in their pictures the more likely they are to be targeted by adult predators.
The latest figures show the organisation received 6,291 reports from the public, website hosts and online moderators last year (until February 2010) - a rise of 880 on the previous year. Offences ranged from grooming children online to distributing images and sexual abuse.