Sott.net translation.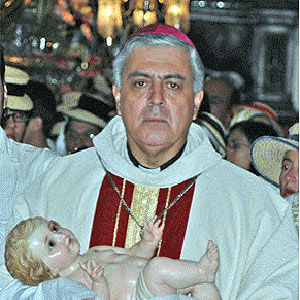 "There could be children that allow it - referring to abuse - There are 13 year old underage teenagers, who are perfectly in agreement with, and what's more wanting it, and if you are careless they will even provoke you,"
he said." These are the words that the Roman Catholic Bishop Bernando Álvarez, the man in charge of Tenerife's church, used to describe the severe problems of child abuse on Christmas Eve, in an interview given to the local Tenerife newspaper
La Opinión de Tenerife
.
Additionally, the bishop compares homosexuality with child abuse, and even if he assures that the difference between homosexuality and the abuses are evident, he poses this question:
"why does the child abuser have to be considered a sick person?"
Even if Álvares states that he respects the sexual condition of homosexuals, he shows again his most critical side and claims that "the homosexuality phenomenon is something that damages people and society in general".