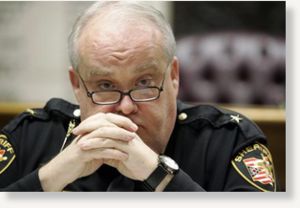 A man who recently told a relative he was having marital problems called 911 and informed a dispatcher that he had fatally shot his wife and three young children and was getting ready to kill himself, too, authorities and his grandmother said Saturday.
The 911 call came in just after midnight, the Ottawa County Sheriff's Department said, and deputies arrived within minutes at the white-sided, two-story farmhouse in Oak Harbor, about 25 miles southeast of Toledo. They didn't enter the home until two hours later, after they'd tried to contact the people inside by phone and through a loudspeaker.
In an upstairs bedroom, they found Alan Atwater, 31; his wife, Dawn, 30; and their three children - 4-year-old Ashley, 2-year-old Isaac and 1-year-old Brady. The parents and two older children were on the floor, while the youngest was in a bed. All had gunshot wounds, authorities said.
"There has been a terrible accident at my house. My wife and three children are dead," Alan Atwater said in the 911 call, according to the sheriff's office. He told the dispatcher he had shot them.