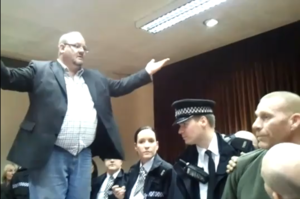 Hundreds of anti-establishment protestors stormed a Wirral court today and "arrested" a judge.
In chaotic scenes, police rescued Judge Michael Peake from their clutches and escorted him safely from the building.
Protestors from the public gallery charged at Mr Peake to make a civil arrest chanting "arrest that judge".
Police scrambled over court benches to control the near-riot and one protestor shouted "seal the court."
Another sat in the judge's chair at the head of the court and declared Mr Hayes as "released".
Around 600 chanting demonstrators massed around the County Court in Birkenhead.
Deafening cheers and chants could be heard from the crowd outside and protestors used mobile phones to film arrests being made.
Roads were blockaded and dozens of police officers deployed to keep order.