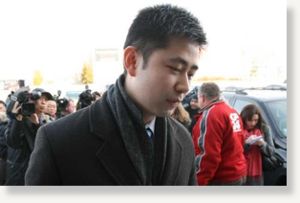 A couple accused of making the husband's mother live in a freezing garage since last November has been denied bail, following a video-link courthouse appearance here Tuesday morning.
Kwong Yan, 43, appeared from Toronto East Detention Centre wearing an orange prison suit. Qi Tan, 28, appeared from Vanier Centre for Women.
Yan and Tan turned themselves in to police on Friday, said David Hao, a lawyer who appeared on the couple's behalf at the Ontario Court of Justice.
Police charged them with failure to provide the necessities of life and criminal negligence causing bodily harm after Yan's 68-year-old mother was found by paramedics last Wednesday, in response to a call from Yan.
Police said the woman was unconscious, frostbitten and malnourished.
Hao, who said he has not officially been retained, said the couple came to see him Thursday at his North York, Ont., office, a day before giving themselves up to police.
"They were mainly upset about their mother's illness and not about the charges pending against them," Hao said.
The court remanded the couple into custody and set their next appearance for March 15 at College Park courthouse.