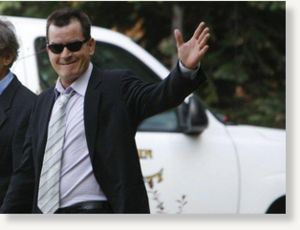 Troubled US actor Charlie Sheen rounded off a rollercoaster week by claiming that he couldn't be anti-Semitic because he is Jewish -- and saying he is off to Haiti, to help out there.
Sheen, whose children were taken away from him a week after the hit TV series in which he stars was cancelled, said he should have mentioned his Jewishness when he was accused of anti-Semitism last week.
"My mom is Jewish. Here's where it gets confusing -- we don't know who her father was," he told the TV show
Access Hollywood Live
. "But she is, in fact, Jewish. So, I guess that would make me Jewish, and my children Jewish.
"And Brooke, my ex-wife is Jewish. So, I guess I should've rolled all that out too," he added.
Challenged about why he didn't mention this earlier, he added: "I know, I know -- stupid me .. I just got caught sleeping. Caught napping. Which is rare for me."
The comments came a week after hit TV show
Two and a Half Men
was canceled for the rest of the season following Sheen's repeated attack on its producer, Chuck Lorre.